Posted by Jeff on Feb 5th, 2012 in News | 0 comments
In case you haven't heard, this coming Tuesday is the two-hundredth anniversary of the birth of the great Victorian novelist Charles Dickens.
I suggest you celebrate by reading Great Expectations, one of the best damn novels ever written. David Copperfield is also really good, as is the first half of Oliver Twist. But if you're one of those people who refuse to read Dickens because your Grade 11 teacher forced you to read A Tale of Two Cities in less than a week, or because you think anything written before Hemingway is "like, OMG, like, totally lame-o and gay, dood", then I would suggest you read John Irving's brilliant 1986 essay, "The King of the Novel" – a passionate, heartfelt defense not only of Dickens but of any writer who has ever had anything worth saying about society and human nature. It's in Irving's short-story collection, Trying to Save Piggy Sneed. Go ahead. I'll wait.
Or, if you just don't like reading, then watch David Lean's movie adaptations from the 1940s. Drink a shot whenever you see antisemitism.
I'll do my part for Dickens' birthday on February 19, when I feature once again at Storytelling at Caplansky's. By request of the host, Marilla Wex (who designed this website, and may even be reading this right now – Hi, Marilla! *waves*), I'll memorize my infamous Dickens parody, "Little Nell", and perform it there. Warning: It contains graphic violence, long book titles and a spectacularly inept cockney accent.
But why am I going on about Dickens? This website isn't about him. It's about me, me, me!
Three nights before Caplansky's, I'm performing at Launchpad Comedy, a night of yuks hosted by my friend Magdelena. I'll be the sole comical poet surrounded by a roomful of legit comedians. Wish me luck.
But the big show is on the afternoon of Sunday, February 26.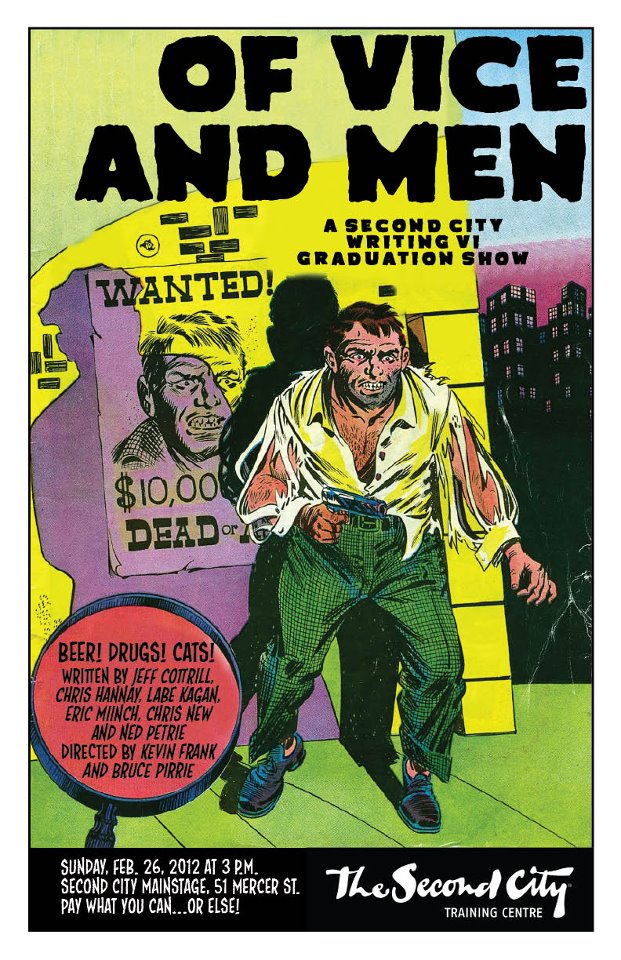 That's when my Second City writing class presents Of Vice and Men, a one-hour, Second City-style revue on the Mainstage, featuring real, semi-professional actors performing our words. (We'll be in the show too, briefly, in the opening sketch.) I've contributed scenes lampooning kindergarten classes and old-timey movie producers.
Here's the Facebook event page. If you can't make the 26th, though, there are also small "work in progress" presentations you can see on the 12th and 19th. (There was one yesterday, too, but you can only catch that one with a Tardis or a DeLorean.)
Info on all of the above events on the right sidebar.
What a world of gammon and spinach it is, though, ain't it?