Sight & Sound
New York City-based host Eric L. Jones interviewed Jeff in Harlem (May 20, 2012), discussing Jeff's one-man play Grouch on a Couch, writing comedy sketches for Second City classes and touring the U.K.:
Here's Jeff's first interview with Eric on BlogTalkRadio.com (August 19, 2007), in which he talks about Guilt Pasta and dares to compare Brampton to Albany. There are also a few tracks from his first CD (Cracktastic!) on the show, along with some funky music:
And here's a link to Jeff's interview with Robin Vaughan-Williams on the Spoken Word Antics radio show on Sheffield Live!, in Sheffield, England (recorded March 13, 2007; aired the following April 5 and May 31), in which he talks about the limitations of slam poetry, explains the Perpetual Motion Roadshow and insults a much-loved Ottawa writer:
* * * * *
Words, words, words
Here are a few examples of stuff written about Jeff (rather than by him)…
Cate McKim's website Life with More Cowbell featured a flattering review of Jeff's third CD, This Album Is NIT FENNY!
Check it out here.
Lipstik Indie Reviews raved the chapbook edition of Grouch on a Couch in their April 2012 issue. Scroll down to see it. And if you scroll down even further, you can catch the September 2007 review of Guilt Pasta too.
Here it be.
Dreadful Tales posted a review of the Fall 2011 Burning Effigy launch party on November 30, 2011, in which Jeff performed a scene from Grouch on a Couch.
Click here to see it.
Jeff got a complimentary mention in the November 24, 2011 blog entry by British poet Rob Hindle — a review of Skype Me!, a part-broadcast poetry event in Sheffield, England, in which Jeff took part.
Read it.
Torontoist.com mentioned Grouch on a Couch in their "Urban Planner" for July 26, 2010, which spotlighted the Bad Dog Theatre Short Play Festival.
Check it out here.
Here's Gary 17's preview piece for Jeff's second CD, Clown with a Coat Hanger: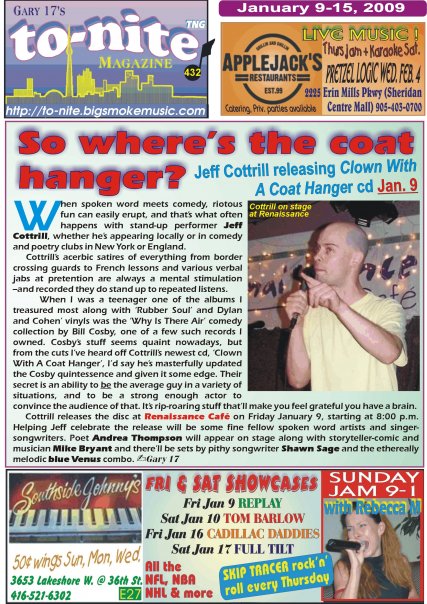 "Guilty? Fiver? Sat it?"
How Yah Doon?, September 21, 2008
"Interview with Jeff Cottrill about Guilt Pasta"
Blogto.com, November 1, 2007